Edit: Oh gosh, I hope no one has read this post already! Since I just noticed that I forgot to say at the start that this is a dream I had tonight! Haha, that's what you get when writing and publishing posts before breakfast. 😛
I was hosting a blót for family and friends. Having found otherwise unknown sources of how such an event was done in the Viking Age, it was all very exiting and new.
I had procured a huge and massive wooden slab on which all of the ritual stuff took place. It was uneven and I realized that the rocking of the slab, back and forth, actually held a ritual purpose.
People came, all bringing little items meant to be used in the ritual. As they entered, I instructed them to place their contributions on the wooden "altar". (Not really an altar in the traditional sence but still, it clearly held that function!)
As I talked with the other participants I learned that my cousin and his wife were going to have a baby. (IRL I know that they too have been wanting to conceive. I gotta call them today and ask how things are going!)
Throughout the dream, I got flashes of how this ritual used to be done in the past. I saw the wooden slab being carved by the participants, making a smoother surface full of decorations (though still keeping the base uneven, since the whole thing was meant to be unstable when worked upon). I saw a very rough sexual ritual taking place on it.
And weirdly, part of the ritual was all about ironing. I had a collection of very beautiful and imaginative items that apparently had been used in the past to smooth out fabric. They looked nothing like what you would expect and were made out of all kinds of material, the most beautiful was of glass.
Now I haven't been ironing any clothes for a couple of weeks, I haven't talked about ironing or seem anyone else do it for ages. So this rather unexpected part of the dream ritual is probably symbolic, I'm just not sure how. Come to think of it, the wooden altar once it was carved and decorated, looked like an enormous version of one of those Viking Age items usually interpreted as a sort of ironing board.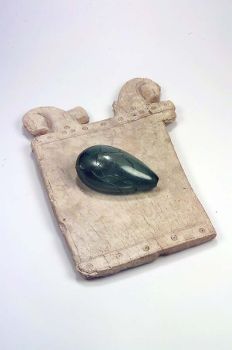 I have never liked the interpretation of this as an ironing board. Nope, no way, I don't buy it. Perhaps this dream was a way of telling me that the board was in fact a ritual tool?  Though I doubt one could have sex on it, unless being the size of a tiny pixie. 😛